HUGE 2018 will be on Saturday 16th June.  On Saturday 16th June we'll be in the Old School Rooms, Haworth for the usual mix of ukulele mayhem and fun – with a few new tricks up our sleeves.  There'll also be a flash mob during the day.  More details coming soon!!
To give you an idea of what it's all here's our 2017 Flash Mob.
And a video from the Old School Rooms
HUGE 2017
A HUGE thank you to everyone who came to  HUGE 2017  – you were brilliant. We raised a fabulous £1300 to share between our two charities – Sue Ryder Manorlands Hospice and BAMHAG (Bradford and Airedale Mental Health Advocacy Group.  Thanks to everyone who helped with planning and over the weekend  – you are the best!  It's great to catch up with ukulele friends and make new ones!  Thanks again.See you at HUGE 2018!
Here's a video of our HUGE 2017 flash mob 'Don't Worry Be Happy'
2017 FLASH MOB NEWS!!!!!
Saturday 17th June 12.00 at the top of Main Street, Haworth (outside the Black Bull). The more ukuleles the merrier.  If you want to know what a flash mob looks like scroll down the page and you'll see a film of last year's.  We'll be playing 'Don't Worry, Be Happy' and you can download the songsheet here
Volunteers Needed!
List of jobs needing to be done is here – please email haworthukulelegroup@gmail.com if you can help.
HUGE Songs from the Musicals!!
Saturday 17th and Sunday 18th June at Haworth Old School Rooms and venues around Haworth
Haworth Ukulele Group Extravaganza 2017 is nearly here!  This is our fifth HUGE and if you want to know what it's all about please read on and scroll down to see videos and photos from previous years.  The main thing you need to know is that it's great fun and our mission is to provide as many opportunities for playing ukulele as possible.
Performances, plenty of mass uke strumming, tombola and raffle, HUGE Ale, evening entertainment, steam trains and all in the unique setting of Haworth Old School Rooms and the surrounding area.  Our theme for 2017 is 'Songs From the Musicals!'  As always there'll be plenty of opportunities for strumming during the afternoon as we work our way through the new songbook.
We are making a change this year and we won't be running formal workshops.  Instead, on Saturday 17th (from 11.30 a.m. – 12.45) there'll be a jam session in the historic Black Bull pub where Branwell Bronte had his own chair.
Beginners Welcome!  Although we are not running a formal workshop for beginners if you want to get started playing ukulele just bring your uke (or borrow one from us) and there'll be plenty of help around to get you strumming.  You can get our Beginner's Pack from the merchandise stall.
HUGE 2017 T Shirts and Songbooks
Songbooks are £6 and t-shirts £10 – both are available at HUGE 2017!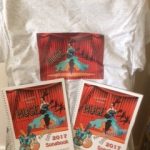 HUGE 2017 Programme
You can download a programme and information here.
From 1.00 p.m. on Saturday 17th June we'll be inviting uke groups to play on the stage at the Old School Rooms, Haworth. Every group has been asked to include a song or two from a musical in their set – we're looking forward to hearing what everyone has chosen.
 Saturday 7.30 p.m. – 10.30 p.m. Charity Event – Cobbles and Clay Cafe, Main Street, Haworth.  Tickets £5.00
On Saturday evening the fabulous No Fluke will be playing at Cobbles and Clay Cafe from 7.30 p.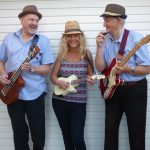 m.  Tickets £5.00.
No Fluke played a fantastic set at our Swinging Sixties party at HUGE 2016 and we're really looking forward to seeing them back again.   As well as entertaining us with their own set of songs No Fluke will be playing some songs from the HUGE 2017 songbook so we can all join in. Bring your uke!
https://www.facebook.com/No-Fluke-856564977762797/
Cobbles and Clay is  a licensed cafe selling a range of wines and bottled beers as well as soft drinks, teas and coffee.
Sunday 18th June – The Original Ukulele Steam Train Special on the Keighley and Worth Valley Railway – 11.51 from Haworth Station
Toot, Toot! Fifth year running for the original Ukulele Steam Train Special. All aboard and bring your HUGE 2017 songbooks. Join us in our private carriage on the 11.51 from Haworth for a round trip on the KWVR arriving back at Haworth at approximately 13.20.   Tickets must be bought before boarding the train so please allow plenty of time. If the weather is kind there will be an informal jam session after the train in the pub garden.
The adult fare is £9.20 each. Don't forget to pick up your voucher at HUGE and get this reduced rate fare for the HUGE 2017 Steam Train Special.
HUGE Entry Fee and Songbook 
We cover all our own costs for this event so we ask for a small entrance fee of £6.00 for the afternoon event and this includes a 2017 HUGE Songbook. It's a bargain!!  The total cost if you go to all the events over the weekend is £20.20 – a bargain for a weekend of ukulele fun!!
Refreshments
Refreshments – tea/coffee, soft drinks, wine and HUGE Ale (from Wishbone Brewery)** will be available at very reasonable prices.  Snacks such as crisps will be available to buy but we don't sell sandwiches or hot food.
**Please note that due to licensing restrictions only alcohol purchased on the premises may be consumed on the premises**
HUGE 2017 Charities
Each year HUGE supports local charities.   There'll be a raffle and tombola as part of our charity fundraising and this year we will be fundraising for two charities:
Sue Ryder Manorlands Hospice http://www.sueryder.org/care-centres/hospices/manorlands
Bradford and Airedale Mental Health Advocacy Group http://www.bamhag.org.uk/
 Our Venues and Haworth:
The Old School Rooms, Church Lane, Haworth BD22 8DR  http://www.hawortholdschoolroom.org.uk/  Our main venue for Saturday. It's a lovely old building with plenty of Bronte related history.
Cobbles and Clay Cafe, 70-72 Main Street, Haworth BD22 8DP A lovely, licensed, arts cafe in the centre of Haworth and well known for its delicious food and friendly atmosphere   https://www.cobblesandclay.co.uk/
Keighley and Worth Valley Railway, The Railway Station, Haworth BD22 8NJ – famous for being the Railway Children railway  http://kwvr.co.uk/
Haworth – There's plenty for non-uke players to do in Haworth, the home of the Brontes, and lots of places to stay if you're making a weekend of it.  For more information about Haworth, transport links and accommodation please go to http://www.visitbradford.com/discover/Haworth.aspx  and      http://www.haworth-village.org.uk/visitors/visiting-bronte-country/visitor-information.asp
Parking – if you are coming by car the nearest car park to the Old School Rooms is the Museum Car Park BD22 8BU
Cafes and Pubs – there are lots of good cafes, and pubs in Haworth which are open in the daytime. There is also a bakery , a wholefood shop and a fish and chip shop close to the Old School Rooms.  There is a SPAR shop near the railway station. We advise booking in advance for evening meals.  Cobbles and Clay Cafe will be open early evening serving a HUGE special menu.  Pubs and restaurants serving early evening meals and within reasonable walking distance and are:
The Old White Lion http://oldwhitelionhotel.com/
The Kings Arms http://www.kingsarmshaworth.co.uk/
Haworth Steam Brewing Company http://haworthsteambrewery.co.uk/
The Old Sun http://www.theoldsunhaworth.co.uk/
Slightly further away – down the cobbled street are:
Embers http://www.embersofhaworth.co.uk/
Wharenui  http://www.wharenui.co.uk/
Haworth Old Hall http://www.hawortholdhall.co.uk/
Near Haworth Railway Station are:
The Mill Hey Brew House http://millheybrewhouse.co.uk/
Chap 'n' Barrels http://www.chapnbarrels.co.uk/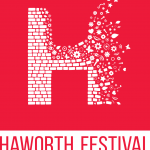 HUGE 2017 is part of Hawfest Extra.  Haworth Festival is a community music and arts festival organised by volunteers and outside of the main festival week in July supports additional community events.
'STAND BY ME' FLASH MOB!! Saturday 25th June 11.00 a.m. at the top of Haworth Main Street
Click HERE for the song
HUGE THANK YOU!!
Well done HUGE 2016 ! We're delighted that HUGE 2016 raised just over £600 (including gift aid) to share between our chosen charities: Bradford Metropolitan Foodbank and Manorlands Hospice at Oxenhope. If you want to find out more about what these two brilliant organisations do – please take a look at their websites.
http://www.bradfordfoodbank.com/
http://www.sueryder.org/care-centres/hospices/manorlands
HUGE thanks to everyone who contributed to the event by sharing their time, their joy, and their creative spirit. Here's to next time!
HUGE 2016 is on Saturday 25 and Sunday 26 June

It's HUGE and it's in Haworth! 
The 4th Haworth Ukulele Group Extravaganza – or HUGE 2016 is at the Old School Rooms, Haworth on Saturday 25th June and on the morning of Sunday 26th June we'll be on the KWVR for the ukulele steam train special.  It will be Sixties weekend in Haworth so get dressed up and get ready to Twist and Shout.
HUGE is a community uke festival organised by Haworth Ukulele Group (HUG).  Our emphasis is on playing ukulele, sharing songs and having fun with other ukulele players from beginners to experienced from far and wide.  A large part of the festival is the opportunity for community ukulele groups to perform on stage with a full PA and an appreciative audience.  Each year it gets better and better!  In between we all join in playing songs from the HUGE 2016 songbook so you can be playing uke every 20 minutes if you want!
HUGE Ale (Wishbone Brewery Bandit Bitter), wine and soft drinks are available in the School Rooms.  We don't do food but there are plenty of cafes and shops nearby.
There is plenty for uke players and non-uke playing friends to do in Haworth, the home the Brontes, and there'll plenty of 60s style entertainment and events that weekend.
What's On?
Workshops, uke groups, Saturday night 60's party, ukulele steam train special – it's all here! HUGE has an emphasis on participation with workshops and slots for community uke groups like ours to play on stage during the Saturday afternoon. There are also plenty of opportunities to play uke – you can be playing every 20 minutes if you want!
This year there are Beginners and Strumming techniques workshops at the Old School Rooms plus a new session led by uke blues man Keef Jackman at the Black Bull pub.  If you want to learn to play but haven't got a uke yet we will have some available to borrow for the workshop.
You can download the HUGE 2016 programme and workshop information here
How much does it cost?
HUGE is non-profit making and aims to raise funds for local charities so this year we're asking everyone to make a contribution of £5.  We hope you'll agree that HUGE is a huge bargain at only £5 for which you get a free 86 page songbook, an afternoon of entertainment and ukulele strumming with lots of other lovely uke people, and a 60's fab and groovy party in the evening with live music and your chance to play and sing along.
  Where does it happen?
The main venue is the Old School Room at Church Street, Haworth, Keighley BD22 8DR.  It is near the Parsonage and is a lovely old building where Charlotte Bronte taught.  There is a car park nearby.  We recommend that you use the Council controlled car parking near the Parsonage just off West Lane.
T shirts and Songbooks
HUGE 2016 T shirts will be available to buy.
HUGE 2016 Songbooks – free at festival with £5 entrance
HUGE Sixties Party
On Saturday 25th June at 7.30 – 10.30 p.m. there'll be an informal 60's party for HUGE participants.
The evening will feature live music from Keef Jackman, No Fluke and Reuben and Ruth.  Plus there'll be lots of strumming groovy 60s sounds and dancing the night away to your fave discs.  Get your hippy gear on and come along – fancy dress is of course optional but encouraged!
All Aboard the Original Ukulele Steam Train Special
On Sunday morning 26th June, for the 4th year running, we'll be on the Keighley and Worth Valley Railway Ukulele Steam Train Special on the 11.06 from Haworth Station for a round trip of the line via Keighley and Oxenhope.  The trip takes about 90 minutes on the line that's famous for the Railway Children and we get off the train and play on the platform at Keighley and Oxenhope.
See our video of HUGE 2015:
Here's what happened at HUGE 2015
Thank You – HUGE thanks to all our volunteers who give their time energy and creativity and to our supporters for raffle prizes and help.