A HUGE thank you to everyone who came to HUGE 2017 – you were brilliant. Thanks to everyone who helped with planning and over the weekend – you are the best! It's great to catch up with ukulele friends and make new ones! We'll let you know how much was raised for our charities and pics and video will be posted soon. Thanks again. HUG xx
Haworth Ukulele Group is an informal and friendly group of enthusiastic ukulele players of varying levels of ability and musical styles. We get together to strum, sing and have fun on the 2nd and 4th Thursdays of each month at 7.30 p.m. in Cobbles and Clay a cosy, licensed cafe on the historic cobbled Main Street in Haworth, West Yorkshire. So if you like ukuleles and you like having fun – it's the place to be. Take a look at our photo and video galleries and you'll see the kind of things we get up to.
Each year at the end of June we organise HUGE, Haworth Ukulele Group Extravaganza. Find out more about HUGE 2017 here.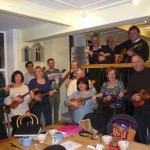 We play all kinds of music from Bing Crosby to the Boomtown Rats so come and join us for ukulele fun. All welcome – beginners and experienced players alike – just bring your uke and a sense of adventure. And if you haven't got a ukulele yet but want to have a go just come along – we usually have a couple of spares with us.