Haworth Ukulele Group is an informal and friendly group of enthusiastic ukulele players of varying levels of ability and musical styles. We get together to strum, sing and have fun on the 2nd and 4th Thursdays of each month 7.30 – 9.30 p.m..  Up to now we've been meeting at Cobbles and Clay cafe but from 15th March we'll be meeting at The Old White Lion Hotel in Haworth, West Yorkshire.  So if you like ukuleles and you like having fun – Haworth is the place to be. Take a look at our video gallery and you'll see the kind of things we get up to.
Each year at the end of June we organise HUGE, Haworth Ukulele Group Extravaganza. Find out more about HUGE 2018 here.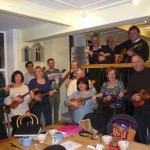 We play all kinds of music spanning decades so come and join us for ukulele fun. All welcome – beginners and experienced players alike – just bring your uke and a sense of adventure.  And if  you haven't got a ukulele yet but want to have a go just come along – we usually have a couple of spares with us.