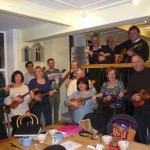 Our regular sessions are on the 2nd and 4th Thursdays of each month at 7.30 pm. – 9.30 p.m. The Old White Lion Hotel at the top of Main Street in Haworth. Venue and dates sometimes changes so please check here for details.  You can also find HUG players at the Bay Horse Inn, Oxenhope for an informal session on most Tuesday afternoons between 2.00 and 4.00 p.m. Just turn up!
---
UPCOMING EVENTS
There are no upcoming events.
---
 PAST EVENTS
Unfortunately HUG are not able to play at the Haworth Festival Music in the Park event this year.  There'll still be lots of great music on though so if you are in Haworth please go along and enjoy the festival.
Summer ukulele fun!  All welcome to our regular session.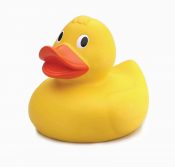 It's quackers!! HUG are invited to play at the Gargrave Village Duck Race. Please let Julie Lever know if you are planning to attend or email haworthukulelegroup@gmail.com  Click for set list

Our first session since HUGE 2018 and a chance to catch up.  All welcome.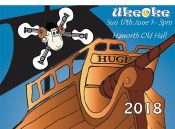 There will be a Sunday lunchtime Sussies session at the Old Hall in Haworth.  This is a weather dependent event as we'll be in the beer garden.  The pub is busy with Sunday lunches.  Fingers crossed for a sunny Sunday.  Bring HUGE 2018 songbooks and the Sussies songbook if you have it.  The Sussies songbook is available to download  from the Files section at https://www.facebook.com/groups/sussiesjam/files/
All welcome!
Yo ho, yo ho! It's Haworth Ukulele Group Extravaganza 2018 me hearties!! This year's theme is 'Pirates and Songs of the Sea' so look forward to seeing you there for plenty of swashbuckling ukulele fun! During the day we'll be at the Old School Rooms and then in the evening Chris McShane will be performing at Cobbles and Clay Cafe (doors 700 p.m for Chris McShane event). School Rooms doors open 11.00 a.m.  The programme is now available!

Help needed to set up the room for HUGE 2018 – there's lots to do so the more the merrier to get the room ready, put chairs out, set up the bar, do signage in the village, hoist the banner and decorate the room (no blu tack or sellotape on walls please). We'll probably have pizzas delivered so we can chill out once we're set up. Please let us know if you can come and help.
HUG regular session – all welcome!
CANCELLED – unfortunately the Bay Horse have had to cancel the beer and music festival because of objections from a local resident.  

HUG will be playing at Oxenhope Railway Station as part of the KWVR Food and Drink Festival 2018
A message for all those playing at the KWVR Food and Drink Festival on Sunday: the setlist is below; we'll meet at Oxenhope Station ticket office – please be there by 4.00 p.m.; we may be outdoors so be prepared; please bring set list in order – we will use it as a pick list depending on time; bring music stands (to share) and pegs to hold music if it's breezy; a bottle of water if you need it; please wear black HUG polo shirts if you have one. See you there!
When Somebody thinks you're Wonderful
By the Light of the Silvery Moon
Sailor (Stop your Roaming)
Shake Rattle and Roll/Hounddog
Extra if needed Don't Worry Be Happy