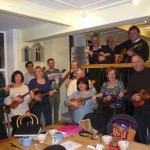 Our regular sessions are on the 2nd and 4th Thursdays of each month at 7.30 pm. – 9.30 p.m. The Old White Lion Hotel at the top of Main Street in Haworth. Venue and dates sometimes changes so please check here for details.  You can also find HUG players at the Bay Horse Inn, Oxenhope for an informal session on most Tuesday afternoons between 2.00 and 4.00 p.m. Just turn up!
---
UPCOMING EVENTS
There are no upcoming events.
---
 PAST EVENTS

It's birthday party time tonight – CHIPS AND CAKE!!!!!!   HUG session which would normally have been on March 8th has been moved to 15th March and we'll be in our new venue at The Old White Lion Hotel, Haworth.  It will also be our 6th birthday so get ready to celebrate!!

We've outgrown our lovely long time home at Cobbles and Clay so this will be our last regular Thursday night HUG session at the cafe.  Come along and join us to say farewell and thanks to Jill and all the staff at the cafe who have hosted us and looked after us so well for the last 6 years.  There may be cake!
Thanks to all those who have said they are coming to this.  We have a good sized group available.  The plan for the event is:
1.30 p.m. arrive and set up
2.00 p.m. Intros and welcome.
Pam will say a bit about playing the ukulele and explain we've got some spare ukes if anyone wants to have a go at playing later.
Then we'll play a 40 minute set (may be shorter depending on getting started on time).
Approx 2.45 – informal chat and encourage people to try playing.
3.00 – refreshments and close.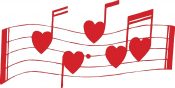 Thursday night is HUG Luuurrrve songs for Valentine's Day so below is my suggested playlist. We've also got a few not at all lovey songs to practice! Thanks to Simon for sending this song – Being a Pirate. I'll bring chord sheets but take a look at this link if you have time.https://www.youtube.com/watch…
Other songs to run through are: The Irish Rover; Devil and the Deep Blue Sea (Cath has kindly found a new version that might be a bit easier); Sailor Stop Your Roaming.
My suggested lurrve songs playlist from our songbooks is:
2015 Songbook:
Annie's Song
Glad All Over
Will You Love Me Tomorrow
Tickle My Heart
It's Now or Never
2014 Songbook:
All You Need is Love
Can't Take My Eyes Off You (Wobbbly Eyes!!)
I'll Be Your Baby Tonight
I'm Into Something Good
2016 Songbook:
All Shook Up
Make You Feel My Love
It Must Be Love
You Were Made for Me
2017 Songbook:
All About You
Return to Sender
Plus possibly Ring of Fire
See you soon!
Message for those coming to play at Maureen's 90th Birthday Party – Sunday 4th February at the Old White Lion (top of Main Street), Haworth. Please arrive around 2.00 p.m. – we're on at 2.30. Here is the set list – we may not play all of these depending on time. Copies of 'Hello Maureen' will be available on the day if you haven't already got it. All other songs are in our songbooks. We'll also be singing Happy Birthday To You (chord sheets will be available). See you there!
5. With a Little Help From My Friends
6. When All The Saints Go Marching In (*Special one for Maureen's family*)
7. When Somebody Thinks You're Wonderful
11. By The Light Of The Silvery Moon
14. It's Olny A Paper Moon
19. Shake, Rattle and Roll
20. Twist and Shout/La Bamba
21. Rock Around The Clock
24. I Don't Know Why I Love You But I Do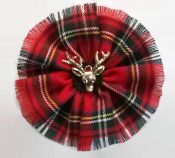 Burns Night celebrations.

Celebrate Twelfth Night Greek Style at the Lemon Tree.  There'll be cake!
This event has been cancelled as the venue is not available.
HUG are performing at the Wishbone Brewery Saturday Session.
http://www.wishbonebrewery.co.uk/
HUG set list for Saturday December 16th at Wishbone Brewery. There are 2 sets as we have quite a bit of time to play if we want to. We'll see how it unfolds. It's a mix of standard set list and festive. Please also bring Christmas songbooks just in case we need them. This will be our last HUG festive gig for 2017 so let's make it a cracker!
WISHBONE BREWERY SET LIST – DECEMBER 16TH
SET 1
Eight Days a Week
Can't Take My Eyes Off Of You
Chains
Da Do Ron Ron
Santa Claus is Coming to Town
Frosty the Snowman
I Wish it Could Be Christmas Every Day
Jingle Bell Rock
Let it Snow
Rockin' Around the Christmas Tree
Rudy/The Tide is High
Fisherman's Blues
Folsom Prison Blues
Shake Rattle and Roll/Hound Dog Medley
   SET 2
Bad Moon Rising
All About You
Urban Spaceman
Karma Chameleon
I'll Be Your Baby Tonight
Deadwood Stage
Twist and Shout/La Bamba Medley
Rudolph the Red-Nosed Reindeer
I Want a Hippopotamus for Christmas
Santa Baby
Silver Bells
Must Be Santa
White Christmas
Winter Wonderland
EXTRAS IF NEEDED
The Twelve Days of Christmas
We Wish You a Merry Christmas