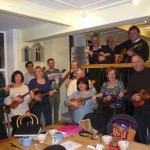 Our regular sessions are on the 2nd and 4th Thursdays of each month at 7.30 pm. – 9.30 p.m. The Old White Lion Hotel at the top of Main Street in Haworth. Venue and dates sometimes changes so please check here for details.  You can also find HUG players at the Bay Horse Inn, Oxenhope for an informal session on most Tuesday afternoons between 2.00 and 4.00 p.m. Just turn up!
---
UPCOMING EVENTS
There are no upcoming events.
---
 PAST EVENTS
Wrap up warm!! Once again HUG are invited to play at Holden Park Christmas Sing in Oakworth.  Well be starting at 18.30 so please be there in good time to set up.  Fairy lights, festive hats and tinsel!!
Here is the set list.
Come and Join the Celebration (for intro play last 2 lines of verse)

Frosty the Snowman (don't play section starting 'Down to the village')

I Wish it Could Be Christmas Every Day

Away in a Manger

 

(children sing – we don't play)

I Want a Hippopotamus for Christmas (by special request of the organisers)

Jingle Bell Rock

Let it Snow

Rocking Around the Christmas Tree

The Twelve Days of Christmas (by special request of the organisers)

Rudolph the Red Nosed Reindeer (play second half)

Silent Night (order of verses in our book is 1,3,2)

When Santa Got Stuck Up the Chimney

Winter Wonderland

We Wish You a Merry Christmas
In reserve:
Must Be Santa
Here Comes Santa Claus
Here We Come a Wassailing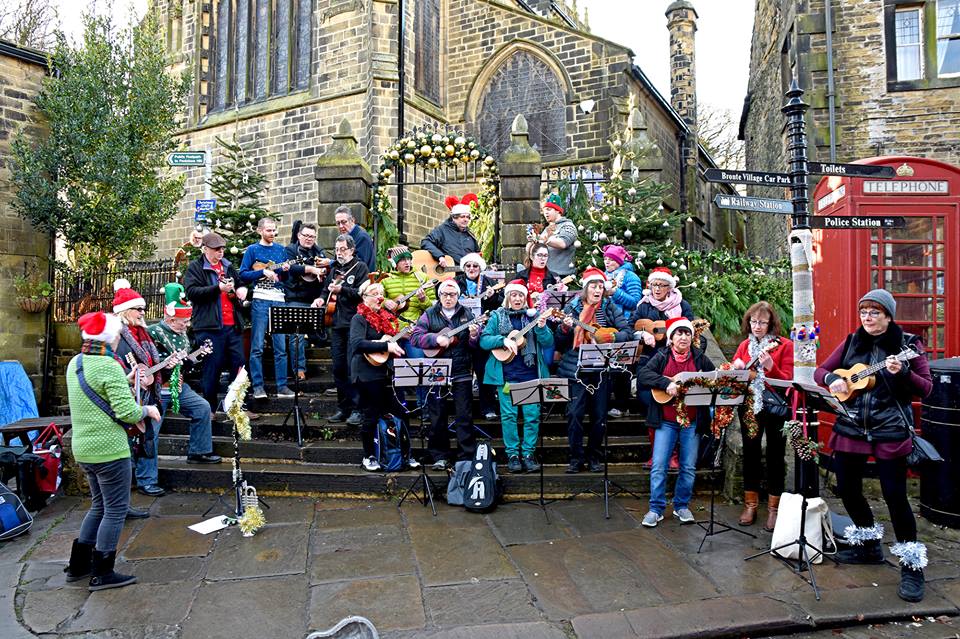 PLEASE NOTE!  The forecast for December 1st is not promising so we are starting at 1.00 p.m. at the Church Steps for a short set and then going to the park to start on the bandstand at 1.45 p.m.
Sleigh Bells Ring ….. 🎄🎄🎄🎄 here's the set list and timings (below) for Haworth Christmas Market on Saturday. Don't forget your festive hats and tinsel. We'll be moving from place to place and will have to share music stands so please buddy up with others. If you just want to join us for one of the sessions that's fine just meet up with us where it suits you – Parsonage, Church steps or Bandstand.
1.00 p.m. – 1.20 Church Steps
1.45 – 2.15 Bandstand in Haworth Park
In between the Church Steps and Haworth Park we'll wander down Main Street and sing a couple outside Cobbles and Clay and Hawksbys then move further down to The Fleece and sing a few there before going to the park – possibly via the Christmas Tree at the bottom of Main Street if there's time and no-one else performing. Then there should be time for a warming beverage before we start on the Bandstand.
I suggest we start at the top of the song list at The Parsonage and then start at the top again at the Church Steps and on the Bandstand. It means we'll do part of a set at the Parsonage and then repeat the whole set twice. See you there!
Rockin' Around the Christmas Tree
Frosty the Snowman
Jingle Bell Rock
Santa Claus is Comin' To Town
I Wish it Could Be Christmas Every Day
I Want A Hippopotamus for Christmas
Silver Bells
Merry Christmas Everyone
Must Be Santa
White Christmas
Winter Wonderland
IN RESERVE
Jingle Bells (all except last verse)
Blue Christmas
Little Drummer Boy
Rudolph the Red Nosed Reindeer

Our regular HUG session.  We'll be well into rehearsals for our Christmas concerts – Must Be Santa!!
We've been invited back by the Active Seniors Group who meet at St Peter's Church Hall, Moorhead Lane, near Saltaire roundabout. They meet from 2-4 pm, but we will be performing a 45 minute set from approx. 2.15 to 3.00 pm. Be there in good time to set up.  We already have enough players for this – thanks!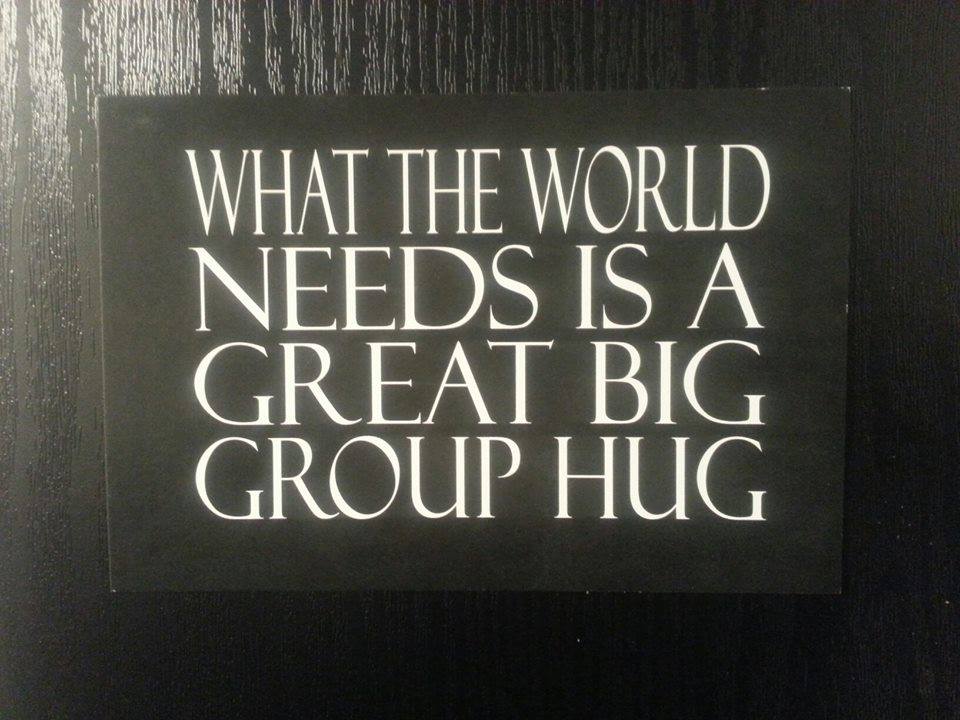 HUG has been asked to play for a group of older people who meet for a social afternoon between 2.30 pm and 4 pm. Need to be there in time to start playing about 2.45 latest. They meet in the Communal Lounge, so we probably don't need more than 12 playing.

Our regular HUG regular session – all welcome!  As well as playing a few old favourites we'll be brushing up on our festive hits ready for our Christmas gigs.  Ho ho ho!

Our regular HUG session at the Old White Lion.  All welcome – beginners and established players.
Our regular HUG session – all welcome!
Our regular HUG session – all welcome!
More summer fun at our regular HUG session.